Power and Desalination Industry
... providing long lasting & new age "GREEN" solution to ageing Infrastructure.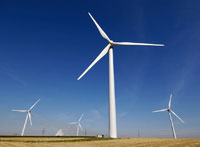 Aeron recognize the growing need of power and drinking water in India and provide new forms of supplying environmentally friendly and cost effective solutions of energy is increasing rapidly on a Global scale, and to that extent we are already involved in all the major industries and applications.
Applications and Products :-
Desalination plant for salt water systems (intake and discharge / outfall), cooling systems, flue gas desulphurization, and process and utility piping within the plant:- FRP/GRP Pipes.
Power plants and windmills :- Various Pultruded profiles
Desalination plant and RO plants :- FRP pressure vessel, FRP membrane pressure tube